So this occurred to me recently. Please believe EVERYTHING I'm writing because I am obviously a professional advice giver and I know exactly what I'm talking about! Sarcasm is hard via blog platform; that was sarcasm. Please continue for your reading pleasure — or just to be enlightened with the thoughts floating around in my mind over breakfast.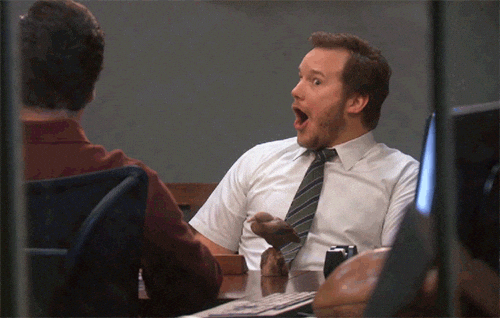 Hey there fellow socially awkwards. Anxious little bunnies. I've found a great hobby/ past time / career /etc. for you. Acting! I know terrifying *hides in hoddie* but bear with me.
I'm kind of a musical theater nerd. And televison. And YouTube. Seriously… I eat that sh** up. You probably do too, you cute little introvert, you . My biggest regret is not doing theater in school. I know people say "No regrets! Live for now! #yolo". To those I say, Sorry (a la Gilly / Kristen Wigg)
Talking to People |
It makes you nervous, anxious, and can even turn you into a dinosaur. You know, that weird noise you make when you are unsure of what to say and overwhelmed by a situation? Oh, just me? Okay…. meeeeeerg *runs away* What's cool about acting is, there is a script! It TELLS you what to say. There is no need to worry about what to say and when to say it. You will ALWAYS know what to say (unless you forget the lines… But you won't because you're a STAHHH!) Learn the lines for the show. But also, learn FROM them. Scenes are the very situations that make you want to die / melt into a human puddle, but in pre-scripted form. This is how Cathy reacted when Jamie said this. OHHH. Use these to form your own unique and beautifully weird way to interact with other people without running away like a dinosaur (unless you want to. That's cool too.) This goes for music too, guys. Don't know what to say musically? That's okay! Play those lovely ukulele covers of pop songs, or hip hop songs, or whatever you are listening to these days. Learn to create and express your thoughts by discovering how others do. Isn't that how learning to do EVERYTHING works (walking, talking, singing, POOPING!)
Social / Performance Anxiety |
This can be crippling. I have struggled with it FOREVER. But so does almost everyone. You're not alone. I know it's cliché and frustrating to hear, but one of the many ways to combat performance anxiety is to do it. Go out and perform. Disassociate yourself from your anxiety. You are not *insert name here*. You are this character, a confident person that knows what to say. Don't think you can do it? Pshhhh…. these people did. You've probably heard of them:
Desperate To Speak: How Emily Blunt Found Her Voice
WHY GRACE HELBIG COULD BE THE NEXT BIG STAR TO COME FROM YOUTUBE
Friends |
I was SORT OF a part of musical theater in college. Not exactly, (was to afraid to audition for anything… UGH) but I was in chorus and took a class called Performance Techniques for the Singing Actor. My closest friends in school were a part of chorus/PTECH. We practiced together. We shared our performance anxieties. We sang together. I felt a bond with them because they saw me for me. In my anxieties and my accomplishments. Not just the surface me. This is what I miss most about school. Those kids were the coolest kids around. You can have that too. Promise.
As I said before, I am no expert. I'm still working on this, and probably will be forever, so sue me (sue me, shoot bullets through me.) If you are one of those humans that can easily start and keep entertaining conversations , f*** you! Just kidding. We love you. We admire you. You are some of our best friends. We need you in our life. I leave you with another gif because, why not!?
xo
L